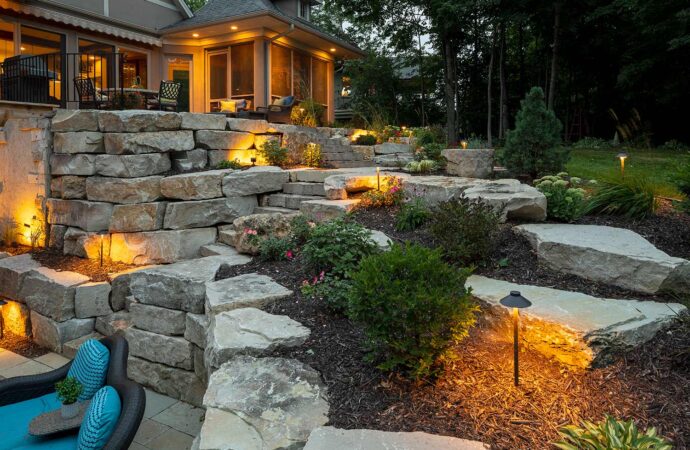 Do you feel lost? Do you feel afraid? Does it feel like you are heading down a pitch-black hole? What if I told you that we have a solution that can shed some light in your direction? Introducing, landscape lighting! That's right! You no longer have to stumble across your yard to reach your home. Light up your home surroundings and never feel lost again! Landscape lighting not only helps shed light, showing the direction you should be heading towards. In a way, it can also help to increase the aesthetic of your home, especially at night. So, let's get down to it, shall we? Where can you get your hands on someone who you can trust with lighting up your landscape?
Queue our shameless plug. Well, hello there! We have been expecting you. Who are we? We are "Pearland Landscape Designs & Outdoor Living Areas". Our team consists of individuals who are highly independent and passionate about the art of landscape design, this includes lighting for your landscape! Why should you hire a professional? For one, design for your lighting placements can seem like a workload to many people. Thus, you may not find yourself enjoying the entire process. Why not save yourself from misery, and hire us to do your bidding? After all, that is what we are here for, to satisfy your landscaping needs. 
To clarify, we will never begin the project without your approval. We will of course draft out a few design proposals and explain to you why the areas of the design are such. You will then need to decide on which design you love most. Don't worry if there are none that match your expectations, let us know your concerns and we will consider them when drafting the next design.
Does that sound reasonable to you? Well then, what's stopping you from reaching out to us?! Let us know your needs and we will get right on it. Before I forget, do check out our other services: Landscape Design & Installation, Outdoor Patios, Outdoor Pergolas, Stonescapes, Residential Landscaping, Commercial Landscaping, Irrigation Installation & Repairs, Drainage Systems, Landscape Lighting, Outdoor Living Spaces, Tree Service and Lawn Service.
Here is a list of our services you can get at Pearland TX Landscape Designs & Outdoor Living Areas:
We service all of Texas. Below is a list of cities most of our services are at on a daily basis: