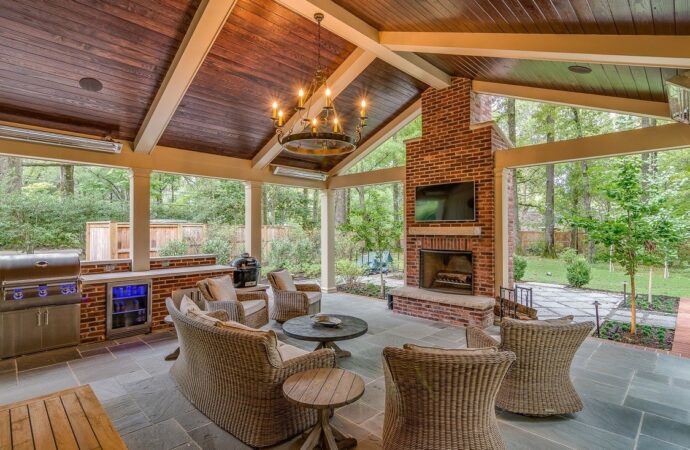 ---
Did you know that having an Outdoor Living Space can help reduce stress and alleviate depression? It's true. Open-air concepts are acknowledged to boost a person's mood in a very effective way. Individuals who experience depression and stress are encouraged to spend more time out in Nature. By doing so, greatly improves your mental health. But how? Maybe you feel like being alone and not wanting to go to the park where there are many human interactions. Well, you could always do it from home. How? Start from home, invest in an Outdoor Living Space such as a Patio or Pergola.
I know the perfect company to support you in this sense. Introducing, the "Pearland Landscape Designs & Outdoor Living Areas". That's us. Our team consists of individuals who are highly independent and passionate about the art of landscape design. We have designers, contractors, builders, and many other roles to make your project a success. But why hire professionals? Each decision you make can influence the Natural Process around you. When making design recommendations, your decision can also affect the Social and Aesthetic Processes of the area you wish to have designed. Therefore, it is very important to take these three groups into consideration when proposing a design.
Why? Because perhaps a landscape design may bring benefit to us humans, but on the other hand, it may not be the best choice for wildlife, and that is exactly why we are here for you! Let us know what you expect and what kind of landscape design you would like to have. A rough idea is enough to kick-start the creativity within our team. Leave the headaches, the worries, and the design considerations to us. All you need to do is choose the best from our design proposals, which you would like to have brought to life!
Now, you don't need to make an immediate decision. Think about what you really want, and whether it is a Patio or a Pergola. You know that you can always count on us! We look forward to working together with you one day.
Here is a list of our services you can get at Pearland TX Landscape Designs & Outdoor Living Areas:
We service all of Texas. Below is a list of cities most of our services are at on a daily basis: